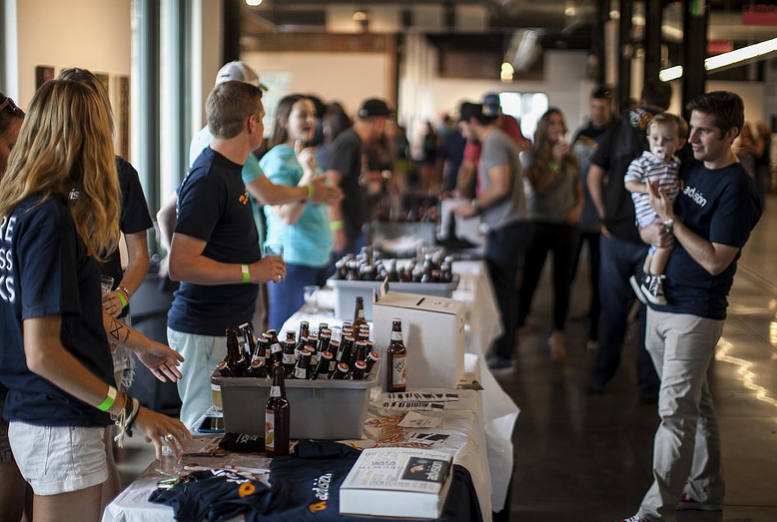 Three years ago, Thad Eby, founder of Ombud and beer enthusiast, had a vision for a new brewing event. He teamed up with Ping Identity and Built In Colorado to grow a new tradition focused on three things that made Colorado great:  startups, craft beer and helping others.  This was the beginning of Colorado Startup Brews, a homebrew competition for technology professionals who brew outside of their tech startup.
From day one, the goal of Colorado Startup Brews was to bring together like-minded technology startups to share their beer creations while donating 100% of all proceeds to charity.  In 2014, ten startups came together in an office suite in downtown Denver to bring this idea to fruition.  In less than two and a half hours, the event hit fire code capacity.  The kegs were kicked and the only food left was mere crumbs.  The event concluded with awarding commemorative tap handles to the best-judged beers and the people's choice. 
Fast forward three years, the event has grown to a startup's version of a hack-a-thon meets the Great American Beer Festival (GABF).  This year's event will feature over 30 Colorado-based startups competing to brew the best beer. Colorado Startup Brews will be hosting over 1,000 people, taking over the entire McNichols Civic Center Building, and raising over $35,000 for their charity partner, The Dear Jack Foundation.
"When we saw how serious each startup takes the competition," said Eby. "We knew that we had to deliver an event that matched the quality of the entries.  We could no longer treat it as a run-of-the-mill networking event."
The growing success of the event is allegory for the startup lifecycle. Bring a team together to execute on a vision, create a minimal viable product launch, receive feedback, and iterate for continuous improvement. The founding team has grown to a diversified association to include members from AdVision, GoSpotCheck, Ombud, and Ping Identity.
Colorado Startup Brews operates as if it were a sanctioned Brewing Judge Certification Program (BJCP) brewing competition.  The judges rate the beer entries according to the style guides for aroma, appearance, flavor, mouth feel and overall impression. Judges provide detailed feedback on how a team can improve its beer and brewing processes. 
"In the past few years, Colorado Startup Brews has quickly become my favorite event in the Colorado start-up scene," said Ryan Gall brewer from Ping Identity.  "If you've ever been to GABF, imagine getting to stand on the other side of the table and pour your own beer and watch the reactions. It's a one-of-a-kind opportunity."
Colorado Startup Brews partnered with a like-minded charity partner. The Dear Jack Foundation supports adolescent and young adult (AYA) cancer patients and survivors.  Dear Jack initiatives and programming promote positive health outcomes for AYA patients from cancer diagnosis through survivorship. Professional musician and cancer survivor Andrew McMahon in the Wilderness founded the organization in July of 2006.
"When I was diagnosed with leukemia over 10 years ago, I learned quickly the struggles facing adolescents and young adults (AYA) with cancer," said Andrew McMahon.  "I've seen firsthand how focusing on the AYA population can decrease the burden of these struggles and fill those impacted with hope. We are humbled to partner with the Denver startup business community, which helps us to advance our mission. Together we will make a difference."
Any Colorado startup is invited to participate and join the competition.  There is no cost to participate. Each brewing startup is provided table space on the floor to promote their organization, serve their brews and network with others. "I have been brewing for 12 years and the quality of the beers rival some of the best professional breweries that Colorado is known for," said Eby.
This year, the following Colorado startups will be serving their creations:  Adistry, AdVision, BowTie.io, Cirrus MD, Clarity IQ, Colorado Technology Association, Dizzion,  Flowh, Galvanize, GoSpotCheck, Inversoft, Ombud, OrthoFi, PaySimple,  Ping Identity, PromonTech, ReadyTalk, Shinesty, Stack Overflow, Tensentric, TrackVia, Webscale Networks,  Wowza and Zen Planner.
Does your company have what it takes to take home the gold for the best Colorado Startup craft brew in Colorado?  You can learn more about Colorado Startup Brews by visiting:  https://www.costartupbrews.com