Marketing Tech, Onsite Gym, Informix, AngularJS, Group brainstorming sessions
3 Companies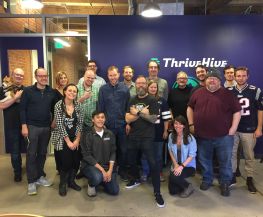 Marketing Tech • Social Media
ThriveHive's mission is to help small and mid-sized businesses take charge of their growth. We develop easy-to-use technology and combine it with human guidance to make marketing easy, effective, and affordable for our customers. We are a team of innovators, creators, techies, and above all, really talented digital enthusiasts!

Big Data • Marketing Tech
GutCheck is an agile, tech enabled market research firm that provides deep audience intelligence. Our clients require deep insights on their target audiences, to help them better product ideate, product develop and brand. We help make heroes of our clients and aid them in making dozens of product development and marketing decisions!

Artificial Intelligence • Digital Media
Marketo, Inc., offers the leading Engagement Platform that empowers marketers to create lasting relationships and grow revenue. Consistently recognized as the industry's innovation pioneer, Marketo is the trusted platform for thousands of CMOs thanks to its scalability, reliability, and openness.