Pet Insurance, Company sponsored family events
3 Companies

Professional Services • Software
Accelo is an all-in-one web platform that features CRM, project management, time billing, client support and invoicing to help run your small business. Managing your business with multiple tools and platforms can you slow you down. From prospect to payment, Accelo keeps everything in one place, allowing your business to efficiently succeed.

ThreatX is the only SaaS-based web application firewall (WAF) solution that enables enterprises to confidently secure all their web applications against a rapidly evolving threat landscape.​ Purpose built for the hybrid-cloud, ThreatX delivers complete visibility and the most precise threat detection and neutralization capabilities available.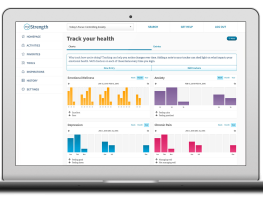 Consumer Web • Healthtech
myStrength is transforming how behavioral healthcare is provided with an innovative, evidence-based digital platform addressing depression, stress, anxiety, SUDs, chronic pain, sleeplessness and other challenges. Our platform targets the most prevalent & costly behavioral health conditions and empowers consumers with self-care resources and tools.