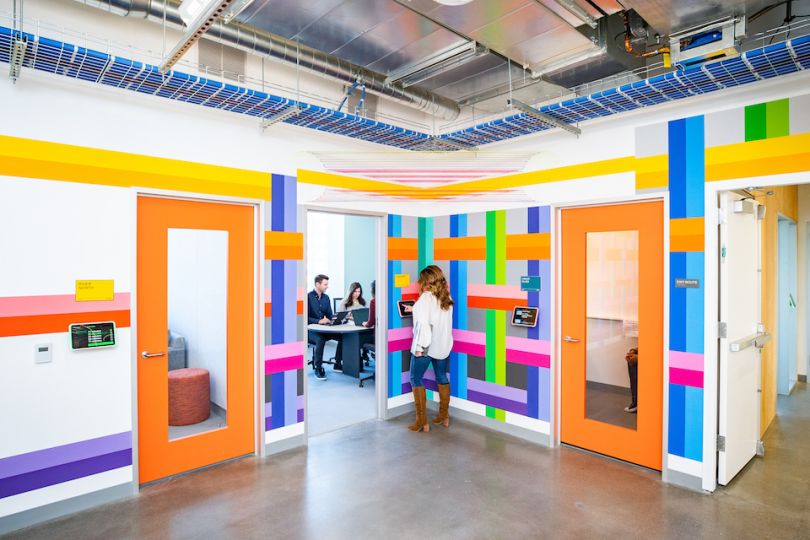 Facebook made a major status update yesterday: it's officially coming to Denver.
Or rather, it's already here.
The Menlo Park, California-based social networking giant opened the doors to its downtown office on Monday, revealing a bright, colorful space complete with Colorado ski chairs and even a ski lift photo corner.
Facebook began hiring in Denver last Spring, quietly building its footprint here. The 23,663-square-foot office could accommodate more than 100 employees, most of whom will focus on maintaining Facebook's network and infrastructure.
"We're excited to open our first office in Denver," said Steve Politis, Facebook's Denver head of office and network planning manager, in a statement. "Facebook is investing in our infrastructure team and the Denver region offers a unique hub, filled with talented network engineers, network security engineers and software engineers. As we join the community, we are committed to being a good neighbor and look forward to creating jobs and supporting local businesses, nonprofits and schools."
Facebook is the next in a growing trend of Bay Area-based tech companies that have opened ancillary offices in Denver, joining recent newcomers Quizlet, Udemy, Slack and many more.
Located at 1900 16th Street, the office features 23 conference rooms, an event space, a training room, a cafe, a library, a game room, a mother room, bike storage and more.