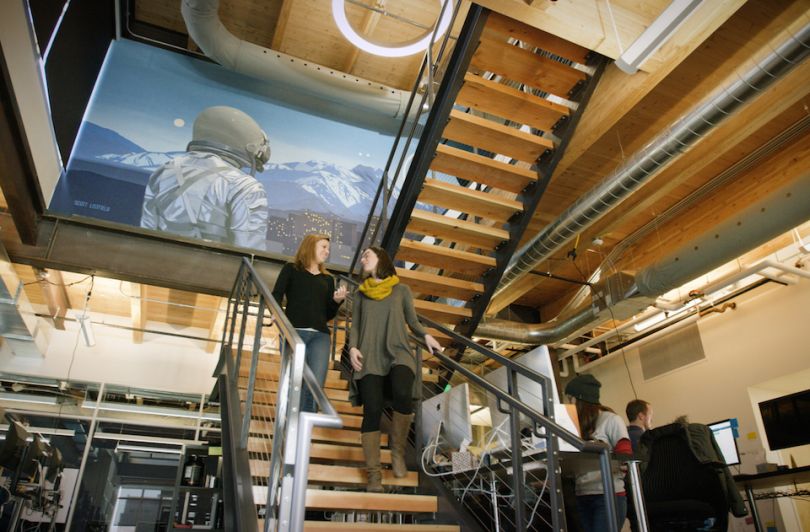 Scaling a startup is no easy feat, and how a company handles that growth can either make — or break — the business.
When GoSpotCheck was founded in 2011, it had just completed the Techstars accelerator program for its field execution management software, and the founding team was working from a garage near co-founder Samantha Holloway's house.
As the company grew, so too did its offices, taking the team from Galvanize to 1520 Market Street to an overflow space at WeWork and, finally, to its new home at 1500 Market Street.
But it isn't just the office space that's evolved. Having grown from three to 150 people over the last seven years, GoSpotCheck's culture has grown right along with it.
We caught up with CEO and co-founder Matt Talbot, who talked with us about the evolution of GoSpotCheck and gave us a behind-the-scenes look at their new office space in LoDo.
How has GoSpotCheck's employer brand and culture evolved over time?
We've always known that GoSpotCheck's culture would be a constant evolution throughout our growth. Now that we're 150 people, the culture certainly feels different than when we were 50 employees — just as it will feel different when we are 250 people! We've done a great job of hiring folks who are bought into the mission and truly want to make a big impact on the business and the customers we serve. One thing that I've been proud to see scale with the company are our values; while we wrote them back in the Galvanize days, they've served as guiding pillars, particularly when we face difficult decisions.
What actions have you taken as a leader and as a company to drive that evolution?
It comes down to empowering your people and making sure you have the right culture champions on your teams. With 50 employees, I had much more direct interaction with everyone and could personally be a big culture influencer. We now have teams of teams, and I trust our managers to develop strong team cultures that align with the broader company culture. One thing I've always insisted on is that our employees work from HQ, which has allowed us to maintain a high level of engagement from peer to peer and has helped us scale our strong culture of collaboration.
We realize that the structure that got us to one phase may not be the right structure to get us to our next phase." 
What challenges have you faced as you've scaled? And how have you addressed those challenges?
One of our values is to "focus on what's important," and our people have truly lived up to this one in a big way.
We realize that the structure that got us to one phase may not be the right structure to get us to our next phase. We've iterated and moved people around into different teams with different reporting structures. We've hired in VP's who have experience in scaling teams. Throughout it all, I've been so impressed with the adaptability our employees have displayed and their dogged focus on making the company successful.
How are employees — at any level of the organization — able to make an impact on the company culture?
We spend a lot of time talking about feedback at GSC — specifically, being direct in how you deliver feedback but also inviting feedback and creating a safe space for it. A more understated way for employees to make an impact on culture is to submit anonymous questions to our leadership team for our weekly all-hands meetings.
Earlier this year, we revamped our all-hands to be held every Friday morning over breakfast in our commons area, and one agenda item in those meetings is a Q&A session with myself and the rest of the leadership team. The questions, which can sometimes be extremely critical, are read aloud in front of the whole audience. I'm always impressed with the thought that goes into the questions and how constructive they can be for the whole company. It may sound like a small thing, but it's a great way for all of our people to call out something that needs to be called out and ensure that we all receive feedback — good or bad.
How is GoSpotCheck's new office space a reflection of the company it is today?
We are fortunate to be able to work in a unique, new building in LoDo. From the moment you walk in, the energy, excitement and collaboration are on full display. This is something we were hoping to be able to replicate from the old office, and the designers and architects did a great job in accomplishing this. The open floor plan is definitely reflective of our overall collaborative culture, but there was also a lot of thought put into providing quiet spaces to escape from the noise and distractions.