In the spirit of the holiday season, many Colorado tech companies find ways to give back and spread cheer to those in need. We talked to three local companies about the traditions behind their giving cultures and how charitable initiatives bring them closer together as a team.
Zen Planner helps fitness businesses streamline operational tasks and grow their clientele with cloud-based software tools. Caring for the body and mind — as well as the people around you — is at the core of the company's values. Recruiting and accounting specialist Liz DiMaria shared how the Zen Planner team stays active in the community.
How does Zen Planner give back during the holidays?
Each year, Zen Planner gives back to the community in two ways: by participating in an "adopt a family for Christmas" program — which allows us to provide gifts and holiday cheer to families in need — and volunteering to cook breakfast at Ronald McDonald House. Hurricane Harvey hit close to home; we have an office located in Houston. So we covered the holiday costs for two families from that area, which were affected by the hurricane.
With Christmas lists from the families, a team did all the shopping and brought back the presents to the office, where we put on Christmas music and wrapped the presents. Outside of work, team members gather one Saturday morning in December to provide a breakfast for families staying at the Ronald McDonald House in Denver.
How long has Zen Planner embraced this tradition?
This will be the third consecutive year that Zen Planner has adopted families in need. The tradition started because our team asked for more opportunities to collectively give back to our community. This immediately became a popular choice. Over the years, we have provided breakfast for the local Ronald McDonald House multiple times. This was started by a team member who used to volunteer at her local chapter when she was in college, and she wanted to bring that opportunity to the Zen Planner team.
Why is charitable giving an important part of your culture?
It ties into one of our core values — to be active. We believe in actively engaging in and supporting our community, and while we are always looking for ways to support our community year-round, we know that the holidays can be especially difficult.
 
What benefits do you see as a company or team from this?
The first thing people notice when they come to our office is our tight-knit family environment. Taking care of each other is a natural extension of who we are, but being able to turn that care outward to our community reminds us how much we have to give and how much we have to be thankful for each holiday season.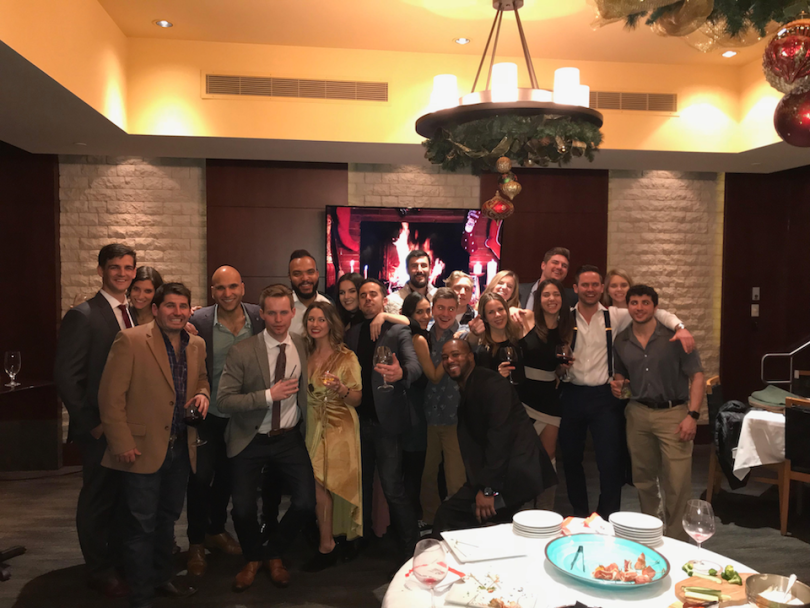 Top Hat's interactive teaching tools are designed to help teachers keep students engaged and develop fun and interesting course content. They're passionate about improving higher education, but they're also passionate about improving the lives of others. Russ Tebaldi, operations and office manager, gave us a glimpse into the ways his team is giving back this season.
How does your Top Hat give back during the holidays?
This was our first year partaking in holiday volunteering activities. We came up with the idea to team up with Soles4Souls this year. It's an awesome giveback that Amazon holds on their website. You can purchase shoes for less fortunate children who would otherwise be without them. We ran a three-week incentive with our sales team in Denver, where we contributed a pair of shoes whenever a daily milestone was hit.
Why is charitable giving an important part of your culture?
Different incentives drive different people. At Top Hat, we have so many amazing people with big hearts who are driven to help others. Running different giveback campaigns throughout the year really gets our team working together for a good cause. When candidates ask for a peek into what a day in the life here looks like, we love to tell them about this and the variety of different givebacks that we hold.
 
What benefits do you see from giving back?
Team building and getting the team together to drive each other for a good cause is the best benefit we could ask for. When it comes to the workplace, you spend more time with the people in that office than anyone else in your life. Being able to use some of that time to contribute in a way that helps others only strengthens those relationships.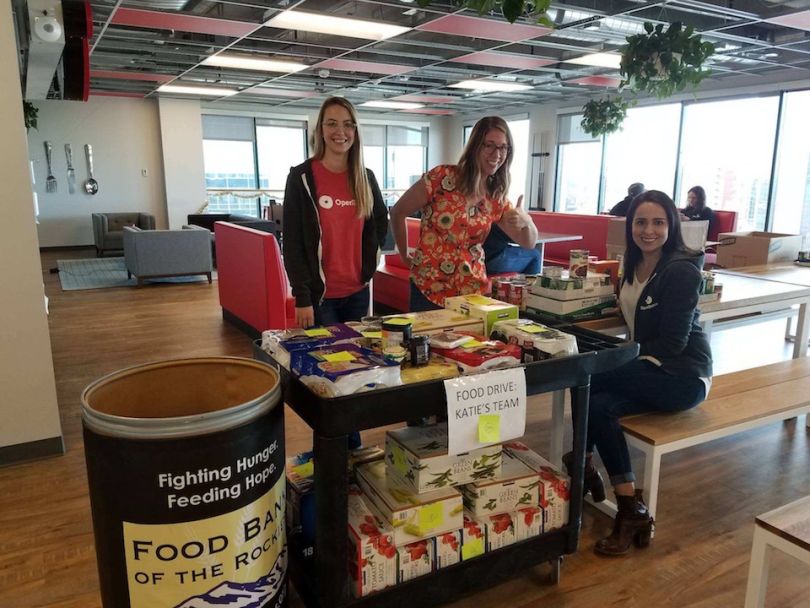 OpenTable connects diners with local restaurants, enabling them to search reviews, make reservations and learn about new restaurants in their communities. With food as their focus, it's no surprise that they've made it a mission to help fight hunger. Recruiter Megan Specht explained some of the company's ongoing and seasonal initiatives.  
 
How does OpenTable give back throughout the year?
On a national level, OpenTable has a partnership with "No Kid Hungry," where diners can donate their points to help end childhood hunger. You can read more about this partnership here.
What initiatives are you focused on during the holidays?
In Denver specifically, OpenTable had a very successful food drive — nearly 1,000 pounds of food was collected. All food donated was sent to Food Bank of the Rockies. Employees also volunteered at the Denver Rescue Mission to prepare dinner for Denver's homeless population. OpenTable's Denver team is committed to helping their community any way they can with a focus on food.