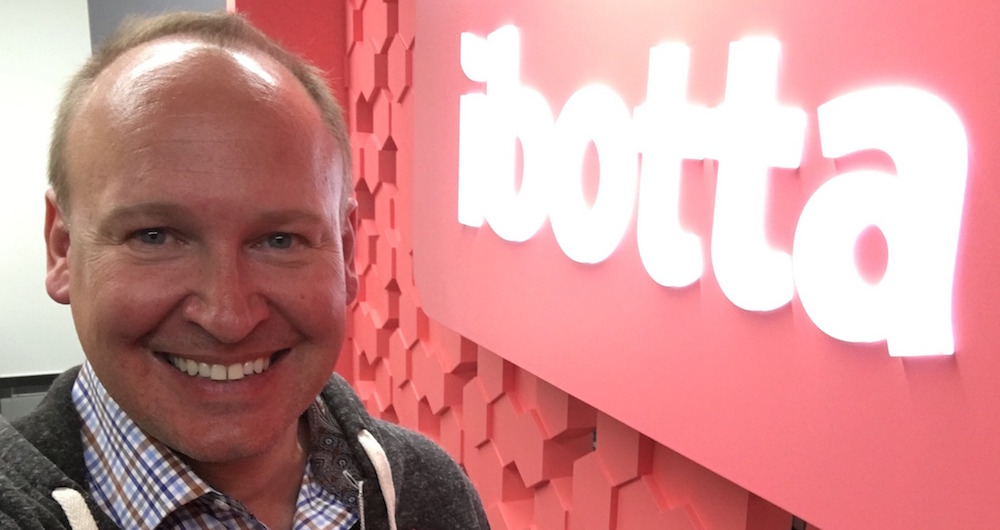 Stories of people leaving Silicon Valley to work in Colorado tech are becoming more common, but it's usually developers and executives who end up making the jump. 
But one former Silicon Valley PR pro decided to join the tide and head to Colorado: Ibotta's Head of Communications, Alex Walker. From getting his start as a producer for CNN to working on Facebook's PR team, Walker's career led him to the Denver startup — where he hopes to make Ibotta a household name.
A unique background
Walker's been in journalism, communications and PR for nearly two decades. He got his start at CNN, working at their New York bureau as a researcher, and later a producer. Under his mentor, foreign correspondent Garrick Utley, Walker developed skills related to the craft, like an eye for pictures, and ear for sound, and the ability to write for TV.
"Clear, concise writing for television has stuck with me to this day, and helps me communicate effectively as a PR professional," said Walker. 
Inspired by Utley's encouragement, Walker sought to fuse his passion for journalism and his interest in technology. He moved to CNN's Atlanta headquarters and covered "an unprecedented era of tech innovation" from 2001-2008.
"I remember packaging a report for CNN on a social media startup that was taking college campuses by storm," he said. "It was called 'The Facebook.' Little did I know that one day, in the not-so-distant future, I would move my family across the country to work for that amazing company."
Walker's role soon shifted to more of an advertorial, sponsored content position — a role Walker credits as sparking his initial interest in PR, where he could do external outreach and serve as a megaphone for brands. But he missed working with tech, and sought a way back to the space.
From California to Colorado
In 2013, Walker joined Facebook's team as a Communications Manager in Menlo Park. Walker loved working with Facebook — he was close with his team, the company was transparent despite its large size, and he had ready access to senior management. Most of all, he loved the pace of working at a company experiencing such rapid growth.
"Change is fast in a startup culture, and it can be both a blessing and a curse," he said. "Unfortunately I'm one of those adrenaline junkies who is addicted to it."
Even though he loved working for Facebook, the cost of living in California grew to be unreasonable for Walker and his wife. They spent three years in Silicon Valley, and earlier this year decided it was time to move on. After talking to old friends from Atlanta who'd recently moved to Denver, Walker and his wife were inspired.
"It sounded glorious," he said. "The schools were great. Housing was reasonable. The hiking and skiing photos they posted to Facebook were enticing. Denver was definitely calling our name."
So, Walker started researching Denver tech companies, and one company kept showing up in his searches: Ibotta.
"As it turned out, Ibotta was the first company I called — and the only company I called," he said. "I don't know if you've ever been in a room with Bryan (Leach, Ibotta's founder and CEO), but he is incredibly engaging. When you have a CEO who is also the company's founder, they exude a fire and passion like no other. I witnessed it firsthand with both Ted Turner at CNN and Mark Zuckerberg at Facebook, and Bryan is cut from the same cloth. He's a total maverick with an incredible vision for the company."
Working at Ibotta
Since joining Ibotta's team, Walker's noticed the power of data — like the amount of rebates given to customers or the items in the app's inventory — as a useful storytelling tool as he works to build the company's overall brand identity.
"Our data is unrivaled, so we can offer really interesting insights to reporters about shopping trends," he said.
For example, Ibotta researchers analyzed 50 million receipts and discovered it's better to buy wine on Tuesdays rather than wait until the weekend. Walker said reporters loved that particular storyline, and it was picked up by hundreds of media outlets.
"I love that kind of data-driven storytelling, and it really resonates with press," he said.
For Walker, the biggest difference between managing PR at Facebook compared with Ibotta is scale.
"Everyone knows Facebook," he said. "Here at Ibotta, we're still building brand awareness, so it's more challenging to land press coverage about us. That being said, it's the number one reason I took this job, to help build the next big brand from the ground up. I believe Ibotta is at the tipping point of becoming a household name — one of the few go-to apps on your home screen — and I'm excited to be here when that happens."
Advice for startups
Walker said that it's common for startups to hire an agency when they're ready to get started in PR, as a way to save some money and work with a team of professionals — but it doesn't always work in their favor.
"I would caution that unless you have someone internal who can build an overall communications strategy, and has the time and skills to manage an agency, then you might be spinning your wheels," he said.
Walker isn't entirely opposed to working with an agency, though. He said having a relationship with skilled professionals can come with a number of benefits.
"You really need someone on the inside who can identify and shape stories early on, and can then tap the PR agency for help with ideas and execution," he said.
Committed to Colorado
"One of the first things I noticed about the Ibotta app is that 'Designed & Built in Denver, Colorado' is right at the bottom of the splash screen, which shows just how proud we are of our roots," he said.
To Walker, the company serves as an example of what Colorado tech can do, especially when it comes to attracting top talent to the state. That includes people of all skill sets who, like Walker, were previously based in Silicon Valley and the Bay Area.  
And Ibotta's ready to welcome in that top talent, whether recent transplants to Denver or people who are Colorado born-and-raised; the company currently has more than 25 open jobs in positions spanning sales, engineering, recruitment and more.
Photo via Alex Walker.

Have a tip or know of a company that deserves coverage? Email us.